We've all been there…
After hours of hunting, you've found the perfect 17th Century cowl knitting pattern – on Ravelry, Etsy or Pinterest – that you know your daughter would adore.
You start looking at the materials needed and it quotes some obscure indie yarn from Estonia.
Don't give up just yet. It is more than possible to switch out yarn in a pattern. You just need a pen and paper, a calculator and some know how.
Here, my friends, is the know how.
DISCLAIMER:

Any substitution or deviation from your pattern will – naturally -cause variations in your finished project.

Changes in size, tension and fitting of the garments is to be expected. Sometimes, there are unforeseen circumstances of substitutions, such as the way a garment hangs from a body…

Please pay very close attention to the gauge of your yarn and pattern, but with all this in mind..

We – Fibrespace – offer NO GUARANTEE that you will be pleased by the end result of your substitution. While we encourage everyone to give it a go and have fun with yarn, you do so at your own risk.

We – FibreSpace – are not liable for the costs (physical or financial) you incur for the purchase of the yarn, nor the time you invest in your project!

Now that we have that out of the way – here's how you calculate how much yarn you need!
When you don't have a particular wool in mind, match the ply.
When swapping out one wool for another in a pattern, the easiest option is to pick a yarn that matches the ply from the pattern.
Easy!
"How do I know how much yarn I need?"
Your pattern should make it clear how much yarn you need for each size and colour. So how do you make sure your preferred yarn matches those specifications?
It's all about meterage.
If your pattern says you need 5 balls of yarn x, calculate how many metres that equates to, and make sure you have the same length of yarn y.

"Can you give me an example?"
Our pattern says it needs 3 balls (or 300g) of Gallipoli DK yarn, but you want to make it from the DMC Angel Bamboo yarn .
First, we figure out how many metres 3 balls of Gallipoli DK offers.
Each ball of Gallipoli DK has approx 220m, so 3 x balls = 660m.

Each ball of Angel Bamboo has approx 95m, but we need 660m, as above.
Therefore, we divide 660 by 95, giving us 6.9. This means we need 7 balls of Angel Bamboo to complete the pattern.
Repeat these steps for every different colour quoted in your pattern.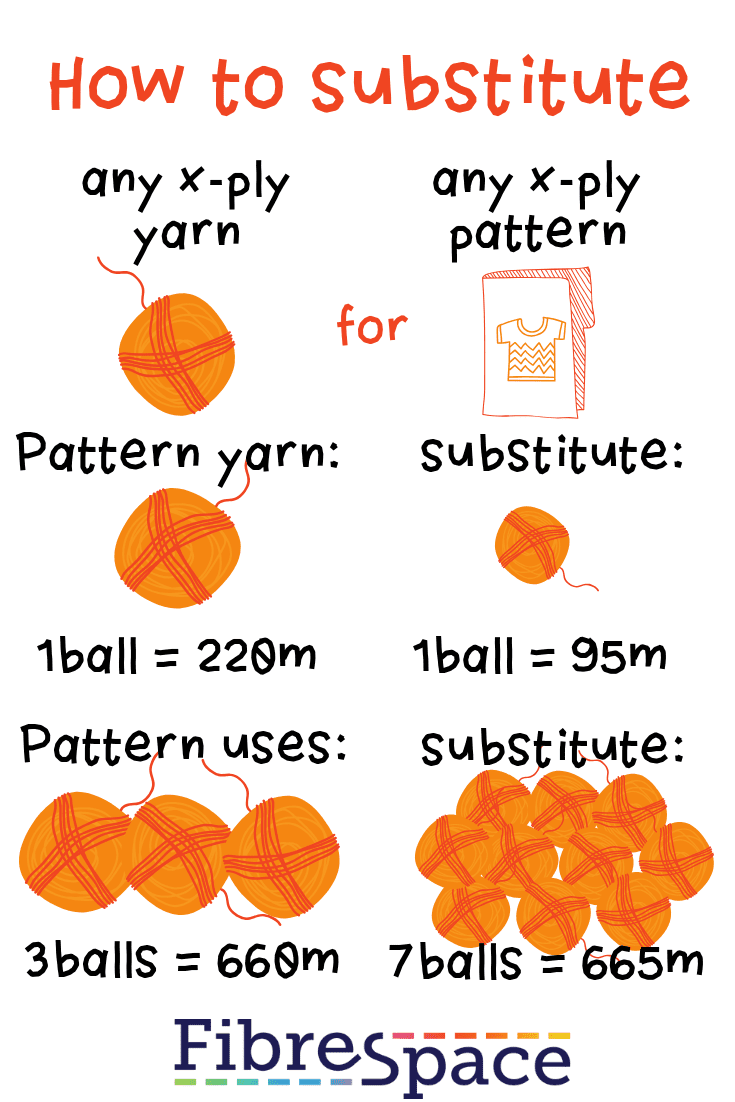 What if the wool I want to use is a different ply from the pattern?
Ohhh, we like you, you cheeky risk-taker.
We have some knitters who wouldn't even consider using a different ply, and we respect the old ways. They create consistency and quality, we appreciate the knitting rules.
But, if – like us – you like to be daring and consider knitting to be more of an art form than a science, you're probably open to a bit of experimentation.
If sizing isn't an issue, and you're open to loving whatever your hands create, then go forth and just knit – don't think too hard about it.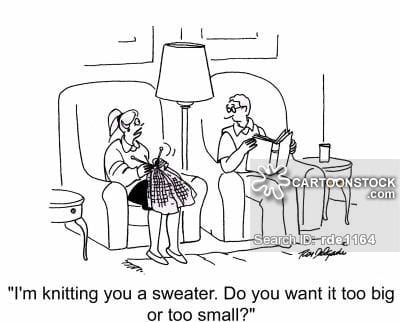 But, if you want your creation to match the sizing of the pattern, you'll need to get your thinking hat on and do some serious mathing.
It comes down to the tension, and we recommend going through your whole pattern doing the maths before you start knitting.
But let's say your pattern requires Baby Haven 4ply, but you adore the colours in the Knitcol Adriafil DK (we don't blame ya!) you'll need to look at the tension.

So let's say a row in your Baby Haven pattern requires 280sts, and the Baby Haven tension is 28sts for 10cm. You know that row should be 100cm long. ("Pattern Row Stitches" divided by "Yarn Tension Stitches", multiplied by the 10cm)
To get the same 100cm out of the Adriafil Knitcol, which has a tension of 20sts to 10cm, you need to stitch 200sts to get the same 100cm of knitting.
Then follow the meterage rule above to make sure you grab enough balls!